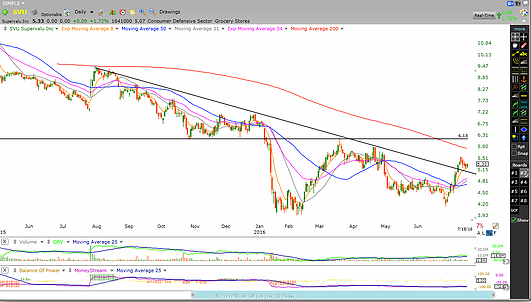 SVU - Price has been trending down for the past 2 years.
On June 28, 2016 price printed a bullish harami candlestick pattern followed by a 9-day bullish run. The bullish energy was strong enough to push price over the upper trend line resistance right around 5.17
The follow up to a bullish run is a few day pullback, which is exactly what we have been experiencing for the past five days.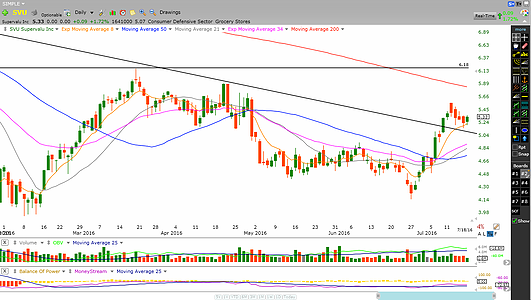 Today, price printed another bullish harami candlestick pattern right above the previous upper trend line resistant, now turned into support. The support level is also confirmed by price trending above the 8 exponential moving average.
If the pullback is confirmed by price opening up higher tomorrow and remaining above above support levels around 5.10, we could see price testing the 200 simple moving average (red line) at 5.84 and extending all the way to 6.18 (next upper resistance line).
Note: Earnings on July 27
Good Trading!
Trading Risk Disclaimer
All the information shared in this course is provided for educational purposes only. Any trades placed upon reliance of SharperTrades.com are taken at your own risk for your own account. Past performance is no guarantee. While there is great potential for reward trading stocks, commodities, options and forex, there is also substantial risk of loss. All trading operations involve high risks of losing your entire investment. You must therefore decide your own suitability to trade. Trading results can never be guaranteed. This is not an offer to buy or sell stock, forex, futures, options, commodity interests or any other trading security.